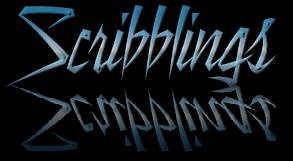 I am a writer, and I write more than poety. Sure, some of these things may not sound so pleasant, but oh well. I write about life, and how it transpires and happens, as I see it of course. Enjoy what little I have here so far.
Currently 16 Selections
A Monolouge about Wealth
How stupid America is becoming
The Summer of 1999
Argument 1
Me at the Beginning of 10th Grade
Joe Shmoe and the Amazing Gloden Gecko (a play)HC
My Childhood
A Bad Day - 9/23/99
A Vivid Dream in Early October 1999
Somthing prose that poses a question
An apology I wrote to my parnets on 11/23/99
Relection on the opening night of Barnum
The Wizzit
Who Burnt the Toast?
Edgar Allan Poe's life and how it Influenced his Works
The Allegory of the Harper and the Sapling
My mockery of the SGA establishment at Myers Park

A Quiet Room in Hell

A Walk in the Sunset

All of these scribblings are copyright of Chris Ward 1998-2001
Return to the Beginning