There will be no cards
With a Hallmark Trademark
On this father's day.
There will only be children,
Watching their father celebrate
By grabbing a cold one,
And relaxing on the porch,
On this, of all father's days...

...or, at least until it rains.
In that case, you'll have to
Come back inside,
That is, if it is not raining to hard
This father's day.

Some kids give their father a stick
What an imaginative gift.
Then there are people such as me,
Who write their father's terrible poetry,
Though try as they might
To attempt to make the wording proper and right.

Regardless, and nonetheless,
You have been a great father,
Quite nearly the best,
Though I myself have no other fathers to compare you to.

So, this is it.
So, this is the end.
To yet another terrible poem,
Written to a great dad,
On father's day.


I tried to write...i tried anyhow. As for a gift, hopefully I can give you one on June 20th, 2001, where you will see just what I have been working on. Thanks for being so good to me, even when I haven't always been so good to you.

Much love, Chris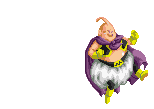 He's dancing...shouldn't you be? Shouldn't I be?